This is a tutorial where you could learn everything you need to know about your HOHEM GO gimbal. First, we'll show you how to start with it in no time.
To Get It Started
 To get the gimbal quickly started, you need to put your device in the clamp and tighten the knob, as shown in the figure below, before pressing and holding the power button for 3 seconds. By the way, GO is compatible with 11-inch tablets and multiple sizes of smartphones. 

How to Use Its AI Face Tracking?
Powered by sophisticatedly advanced algorithms, GO recognizes and tracks face in a stable manner. What's more impressive is that there's no APP or Bluetooth required. HOHEM applies a more convenient method to wake up the AI track. All you need to do is take the "OK" gesture in front of the AI sensor to turn on the tracking and the "PALM" gesture to suspend it. The best distance for gesture control is 0.5m - 1.5m(1.6ft - 5ft), and the best tracking distance is 0.5m - 3m(1.6ft - 9.84ft).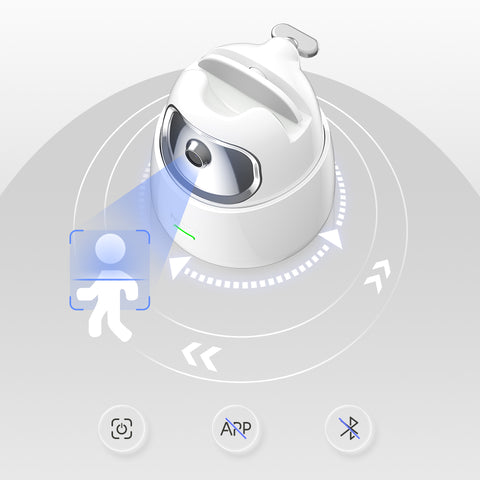 How Does Its 360° Rotation Work?
This 2-axis selfie stand offers a large tracking area to enable precise monitoring, with horizontal and vertical tracking angles at 360° and 30° respectively. Just stand in front of the display, and show "OK" gesture to enable the tracking. Your motions will be monitored and kept in the frame thank to its tracking of 360° rotation. 

Status Indicator
You're also advised to notice the status indicator when using the gimbal. The solid blue stands for standby mode, the solid green means it's tracking, and the flashing yellow indicates it's auto rotating. 

 As you can see, AI is the headline feature of HOHEM GO. Apart from those mentioned in the HOHEM GO guide above, it has more tricks up its sleeve, for example, its enjoys 2000mAh battery which enables 10-hour operation. HOHEM GO gives you endless power to enhance your creality, whether you're using it for live streaming or regular shooting. Visit hohem store if you're interested in this 2-axis gimbal.